Sending a Vehicle into Canada
If you are planning to ship a vehicle into Canada, you must know that it has to comply with the import laws in Canada.  It must meet all requirements for Transport Canada, Canadian Food Inspection Agency, and Transport Canada before you can import it. 
Car shipping to Canada form the UK can be arranged by see in a container or RoRo. Sending a car in a 20ft or 40ft container is recommended when you want to ship it together with your household goods. It is also the safest way of bringing a car to Canada form the United Kingdom. If you have no other items to be shipped but the car, the cheapest option to deliver it is Roll-on Roll-off.
How much to ship a car to Canada?
Car shipping prices are calculated individually. If you would like us to prepare a free quote to send your vehicle from the UK we will need the following information: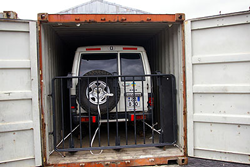 Depends on the above the prices range from £1200 up to £4500 and more if you want to ship a luxury vehicle.
Please note:
A car, according to Transport Canada, can be defined as any vehicle that has the capability of being driven or drawn on roads by any other means other than exclusively by muscular power, but must also not be exclusively run on rails as well.  Trailers may even be considered vehicles, as long as they are horse and stock trailers, recreational, boat and camping.  What will also be considered a vehicle are generators, wood chippers and any other equipment that are mounted on tires and rims.
Exporting Vehicles that have been acquired in the United States
Not every vehicle in the United States that were manufactured for sale is able to be imported into Canada.  A general rule is that if you plan to ship a vehicle that was manufactured for sale in the United States and is also less than 15 years old, or even a bus that was manufactured either on or after January 1, 1971, you will need figure out if it will qualify to be imported under the Transport Canada's Registrar of Imported Vehicles program (RIV).  The RIV is a program that ensures qualifying vehicles that are imported into Canada are modified, inspected and certified to meet the Canadian safety standards. 
If your vehicle meets the qualifications to be imported, you must register it in the Registrar of Imported Vehicles program when you report to the office when you have first arrived in Canada.  The registration fee for the RIV program is $195 plus the goods and services tax (GST), the Quebec sales tax (QST) for the vehicles that will be entering through a port located in Quebec, or the harmonized sales tax (HST) for those that are entering through provinces that participate on the HST assessment.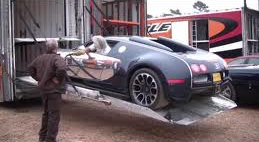 You will also need to pay any taxes that apply, as well as any customs duty and any other import assessments.  You will have 45 days to get any necessary changes that need to be made to your vehicle and have it inspected; you are also in charge of all costs that will be needed to modify your vehicle to meet Transport Canada requirements.
You are not allowed to license your vehicle in Canada unless the modifications are done and it passes the RIV federal inspection.  Be sure to call the RIV before you import your vehicle to make sure that it qualifies under the RIV program. 
Note:
If you're shipping a car to Canada with the intentions of reselling it or any other commercial purposes, it is required from Transport Canada that you report to a CBSA office that is designated for that purpose upon arriving in Canada. 
You must submit the original certificate of title to U.S. Customs and Border Protection (CBP) at least 72 hours before the vehicle is exported from the United States.  The vehicle must also be presented to CBP at the time of exportation.  
A recall clearance letter for the vehicle must be brought directly to the RIV at the time or immediately after importation, otherwise, the RIV will not be able to release the inspection form that is needed to complete any needed modifications to the vehicle. 
Car transport RIV exemptions
You are able to import a vehicle from the United States without registering it in the RIV program only if these apply:
The vehicle is 15 years or older (buses are excluded). You can determine the age by using the month and year in which it was manufactured, not the year model. You may be able to find the age of your vehicle in the manufacturer's compliance label that is located in the door-frame area of the vehicle. If there is no label, you may want to contact the manufacturers to find out the exact age of your vehicle and to also get a letter of proof of how old the car is.
If the vehicle is a bus, it must be manufactured before January 1, 1971.
The vehicle is manufactured and certified originally to meet the Canadian safety standards. These vehicles are imported by importers that are authorized by Transport Canada or by former residents that are bringing back the same car they exported.
The vehicle is entering temporarily for a certain reason. The temporary import types that are allowed are:

Vehicles that are imported for a period of or less than one year. However, temporary residents like students studying at an institution are for the duration of their studies, and people with valid work permits or authorizations for employment cannot be more than 36 months.
Vehicles being imported by diplomats, as long as written authorization has been given by Foreign Affairs and International Trade Canada, for the duration of their post
Vehicles imported by personnel of visiting forces are until their assignment is over in Canada.
Vehicles that are imported by United States pre-clearance personnel and their dependence are allowed for the duration of the officer's post in Canada.
Vehicles imported for testing, demonstration, evaluation, exhibition or any other special purposes.  The importer has to submit a written authorization from Transport Canada in the form of a Transport Canada endorsed Schedule VII, which is for temporary imports of this nature. 
Vehicles that are in- transit and are travelling through Canada
Vehicles that are designed primarily for the performance of work in construction of works of civil engineering and in maintenance, and that aren't constructed on a truck or any truck type chassis.
Note:
Vehicles that are imported temporarily under one of these conditions can't be sold or disposed of while in Canada.  They also can't remain in Canada longer than the time listed on the person's work permit, student visa, or any other customs or immigration documents.  Once those time limits expire, the vehicle will no longer qualify for temporary entry and must be exported.  If the temporary status of the person who brought in the vehicle changes, the vehicle will have to be permanently imported (if it qualifies) or be exported. 
International car delivery to Canada from the UK and other countries besides the United States
You are not able to send a vehicle from the UK that was manufactured to meet the safety standards of a country that is not the United States or Canada unless it follows any of these: 
It is 15 years or older and is not a bus
If it is a bus it must be manufactured before January 1, 19771
Or if it is only entering Canada temporarily
If the vehicle you plan on shipping does meet these qualifications, you will need to have proof. 
Car transport Exceptions
You are able to move a vehicle in Canada if it is manufactured, tested, designed and certified to meet the motor vehicle safety standards for Canada or the United States, has a statement of compliance label given by the original manufacturer.  The vehicle also must not be altered, and the certification is still on the vehicle from the original manufacturer in any of the following examples:
For a second hand vehicle that is less than 15 years old or a bus manufactured the day of or after January 1, 1971
Shipping a vehicle that has been manufactured in the current year
Importing a vehicle for personal use and are the first owner.  The CBSA doesn't consider used vehicles bought from a rental agency, or demonstration vehicles to be new
Are delivering a vehicle received as a gift from abroad and is after its year of manufacture.  You will need to provide the CBSA with a signed letter between both parties stating that it was a gift and no money was exchanged.
Having a replacement imported if your privately owned vehicle was damaged beyond repair while you are travelling abroad.  To prove the damage, you must submit a statement from your insurance company and a copy of the police report as well.
You are a resident whom is returning to resume their residence after an absence of or more than one year, or are a former resident who has been a resident in another country for at least a year's time.
A first time settler and you own, possess and use your car before your arrival.
Shipping a New Car
You transport a car that is bought new or received new from a foreign country.
Note: Before you import it, you must contact both Transport Canada and the CBSA to determine if your vehicle meets the requirements to import / export.
Car Import duty and taxes
If your car is indeed eligible to ship into Canada, you will have to pay the import assessments that might also include excise tax, duty, and GST.  Taxes that may also apply are territorial or provincial taxes when you have your vehicle licensed. 
If you transport a vehicle through British Columbia, New Brunswick, Ontario, Nova Scotia, Labrador or Newfoundland, you have to pay the GST on your importation as well as the provincial part of the HST when you have you car licensed.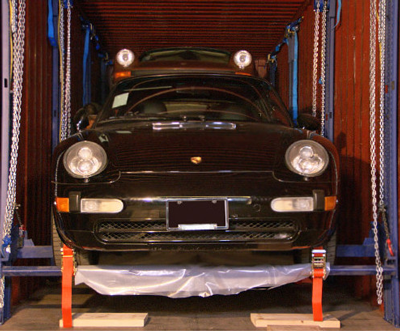 If your personal use vehicle was manufactured in Canada, or the United States, or is a vehicle of a model year that's at least 10 years or older from Mexico you will not have to pay duty. 
The used or second-hand vehicle's country of origin is determined on the information that is contained in its Vehicle Identification Number (VIN).  The VIN is a unique identifier that has 17 characters that indicate the country of origin of the manufacturer, the period of manufacture, the plant, and also a specific identification of the vehicle type.  The first-digit indicator in the vehicle depends on the country of origin.  For Canada it will be 2, for Mexico is 3 and for the United States is 1, 4 or 5. 
If the first- digit indicator is not 1,2,3,4 or 5, this means that the vehicle was not produced in North America.  In the 17 digit VIN is a character that also identifies the geographic location of the facility where your vehicle went through production or final assembly. 
The CBSA will include duty on a vehicle that was manufactured in another country besides the U.S. and Mexico. 
If you are sending a vehicle to Canada, be it Hamilton or Ottawa, that isn't a result of a sale, you can contact the CBSA for more information on how to calculate the value of the vehicle for duty.  If your vehicle has air conditioning, you will need to pay CAN $100 for excise tax.  You will only have to pay additional excise taxes if your vehicle has a weight average of fuel consumption rating 13 or more litters per 100 km and is put into service after March 19, 2007. 
Moving with a car to Canada - Additional requirements
All imported vehicles must be clean and free of soil before moving and arriving in Canada.  This is a requirement that applies to all used vehicles, despite its origin.  Soil is a great way that pests can travel and can cause serious harm to the natural resources in Canada.  Motor-vehicles that are found trying to enter Canada will be refused and be ordered to be removed from Canada under authority from Plant Protection Act and the Health of Animals Act.
To find out how much it is to ship a car to Canada from the UK please contact our office. Our partners offer some of the cheapens rates available on the market. Contact car movers today and save money!
More services: